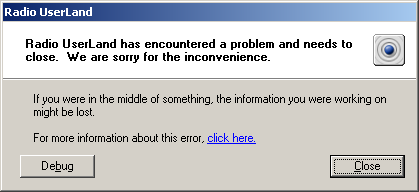 Sigh ... Something is seriously screwed up here. I posted to notes for the first time this month, and promptly got the #prefs.txt error of death. I applied the usual fix (republish entire blog, wait, try again) and it went away.
Then I posted to devlog, got the same error, tried the fix, and Radio crashed (see Figure 1). When it came back up, it was trying to upstream to radio.weblogs.com instead of pycs.net. Crash. Restart. Change community server. Republish all.
Time to make a Radio-to-bzero exporter. And a Radio template parser.