Just before all the lights went out (and the server powered down) last night, I was about to post this little gem to hassle Les Orchard: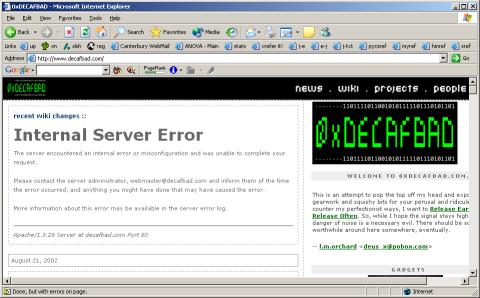 Unfortunately, my own server was suffering from an external error and couldn't take it at the time.
Figures.
Update: Les explains. Web hosts suck, don't they? I like mine though; myelin.co.nz has been very stable since switching.
[ so far]
Dammit ...
# uptime
02:53:51 up 19 min, 1 user, load average: 1.32, 1.23, 0.91
The power here is pretty screwy today. Never had this before, but the main circuit breaker just tripped twice in half an hour.
dev.myelin.co.nz (www.pycs.net) had been up for 196 days, but this brings it back down to zero again.
<sigh/>
[ so far]
No!
icicle:/home/phil# uptime
02:20:54 up 13 min, 1 user, load average: 1.40, 1.28, 0.75
And it was going so well!
[ so far]